Semua terbuat dari alumunium tebal anodized
Tersedia dalam warna hitam dan silver
Ukuran 40cm lebar x panjang 29cm x tinggi 9 cm
4 lubang 7cm x 7 cm x 29 cm
6 lubang 7cm x 7 cm x 41 cm
Box A28D
BOLD 36x26x5,5
38cmx23cmx8,5cm
AL 1 = tinggi 7cm X lebar 14,5cm X panjang 16 cm (bahan alumunium extrusion)

AL 2 = tinggi 7,5cm X lebar 12,5cm X panjang 20 cm (bahan alumunium extrusion)
AL 3 = tinggi 7,5cm X lebar 12,5cm X panjang 20 cm (bahan alumunium extrusion)
Box headphone amp,5 lubang + 1 tutup trafo
Box long
Pre 420cmx380cmx11cm
| | |
| --- | --- |
| | Box kayu |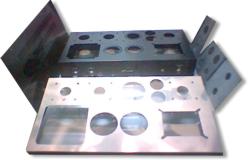 Amplifier box ex Japan. prepunch chassis for single ended stereo tube amplifier,
tube preamp, or push pull mono tube amplifier
Preamp box, 1 selector (2 input), 1 volume control, 1 push on/off
switch and 1 push on/off mute switch, all the knob is included.
Bottom cover is pre punch for the transformer/PCB/feet placement. Top cover
is pre punch for ventilation.
Front panel 6 mm black anodizing aluminum, the rest is iron with hard black
dove painting.
All is knock down for ease of shipping.
Weight: 3.5 Kg
Dimension: 42cm W X 30cm D X 5,5cm H. Price: 350.000
This chassis is actually were used for Assemblage SET300B power amp
by The Parts connection (division of Sonic Frontiers)
It comes without faceplate.
It is pre punch with 7 openings that can fit octal socket and the hole for transformers mounting.
Weight: 5 Kg
Price: 1.500.000